Tuna Duck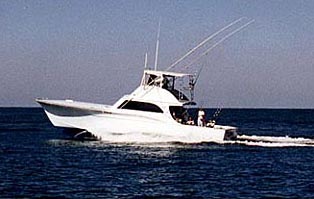 Your stay on Hatteras Island would not be complete without a trip to the Gulfstream. Come aboard the Tuna Duck and Captain Dan Rooks can give you the benefit of over 15 years of fishing experience. The Tuna Duck is a 51-ft. custom Carolina Sportfisher and is fully equipped to provide you with a trip of a lifetime. Marlin fishing is his specialty but you may also fish for gamefish such as tuna, dolphin, wahoo and more! The Captain & his mate will provide professional & courteous service to your family and friends making your trip to the Gulfstream the highlight of your vacation. If you would like to discuss your trip, call Dan at 252-216-6160 or you may book through the marina at 800-676-4939.
Captain Dan Rooks
phone: 252-216-6160
email: [email protected]
web site: www.tunaduck.com

Please contact the Marina after you place your order to verify the charter reservation. Your deposit will be kept if you do not show up for your charter.
Verify Your Information
Billing Address
Full Name:
Email Address:
Street Address:
City, State, Zip: ,
Phone Number:
Payment
Name on Card:
Credit Card Number:
Expiration: /
CVV: