Hatteras Fever II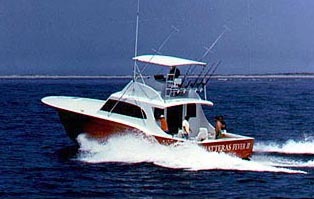 My name is Captain Buddy Hooper and my boat is the Hatteras Fever II, a 54-ft Carolina built boat. Gulfstream fishing is a great family experience and my mate and myself are ready to show you the excitement of big game fishing. Call me at 252-475-0972 and I can help you decide when to book and let you know what is the best time to catch your favorite fish. If you have already decided on a date, call the marina for availability. The number is 800-676-4939.
A full day of fishing and fun await you, so call today and set up a day that is sure to be the highlight of your vacation.
Captain Buddy Hooper
phone: 252-475-0972
website: www.hatterasfever.com
email: [email protected]
Please contact the Marina after you place your order to verify the charter reservation. Your deposit will be kept if you do not show up for your charter.
Verify Your Information
Billing Address
Full Name:
Email Address:
Street Address:
City, State, Zip: ,
Phone Number:
Payment
Name on Card:
Credit Card Number:
Expiration: /
CVV: